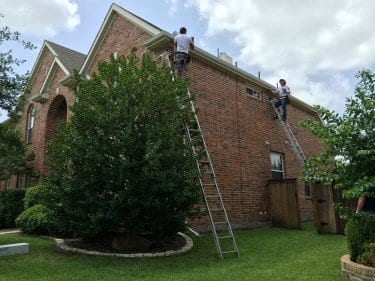 Gutters are a very important item for your home. Homes without gutters have statistically been known for having foundation problems along with a long list of other maintenance issues. As important as it is to have new gutters installed on your home, it is also just as important to keep your gutters clean and in proper working condition.
Thoroughly cleaning your gutters every spring and fall will help keep your gutters working like they're suppose to. The longer you put off the project, the bigger the project will get. It's important to clean your gutters  and down spouts of debris to prevent damage to your home and foundation.
Gutters are designed to catch rain water from your roof to be properly drained off of your property. Overflowing gutters and down spouts can cause rain water to damage your roof, destroy your fascia, and erode the soil near your foundation. It can ruin your home's curb appeal and cause thousands of dollars in foundation problems that isn't covered under home owner's insurance. These problems occur throughout a long period of time which may not be immediately noticeable.
If you don't feel comfortable getting on a ladder, don't worry, Final Cut Roofing, LLC proudly offers Gutter Installation, Gutter Cleaning, and Gutter Maintenance Services.
Along with keeping your gutters clean, it's important to check your gutters for maintenance issues. Gutters should be periodically balanced so that rain water is always drained properly. Areas with leaks should be sealed, additional support added as necessary, and a little touch up paint to cover those blemishes. This will keep your gutters working for years to come, and restore the curb appeal of your home to its original beauty.
Give us a call today and see how easy it is to schedule a free gutter inspection!
We're here to help!
Below is a list of the Gutter Services that we have to offer:
new custom seamless gutter and down spouts installation in a large variety of colors
full gutter and down spouts replacement
standard gutter sizes or large gutters and down spouts sizes (ask us for more details!)
gutter leaf guards a.k.a. gutter leaf screens (screwed down to gutters, helps avoid wind blow offs)
french drains installation
gutter repair
gutter cleaning
gutter balancing
gutter maintenance
Add to favorites