Our Mission Statement
Exceeding customer expectations through quality work and integrity
Our goal is to provide our customers with the best roofing service experience possible. Final Cut Roofing and Construction, LLC is a roofing company committed to setting high standards throughout the Dallas Texas residential roofing and construction industry. As expert roofing contractors, we deliver an outstanding level of customer service along with the best roofing installation on the market.
Whether your home improvement project is a small roof repair or a full roof replacement, you can expect the same level of professionalism, quality roofing products, up to date roofing installation, and appreciation for your business.
How We Schedule Projects
Free Emergency Roof Repair
At Final Cut Roofing and Construction LLC, we don't prioritize our customers based on how "profitable" projects are. That's not the way we would want to be treated. Texas Roofing means we treat our customers like family. Our roofing services are scheduled based on their level of severity. This standard allows us to better serve our customers by serving the customers who have the most severe situations first, thus, preventing the damage from getting worse. We do this by providing our customers with a Free Emergency Roof Repair.
That's right. Free! Our Emergency Roof Repair is absolutely free with no hidden fees and no obligation. An example of a Free Emergency Roof Repair may consist of covering up broken sky lights, damaged roof vents, or placing a tarp on a roof opening caused by a wind storm similar to the pictures below. It may take us up to 2 to 3 business days to order roofing materials and schedule a complete roof repair. Therefore, if there is bad weather in the forecast, we want you to relax knowing that the situation is under control and help is on the way. While you wait for help to arrive, learn what to do when you discover a leak in 3 simple steps.
Free Emergency Roof Repair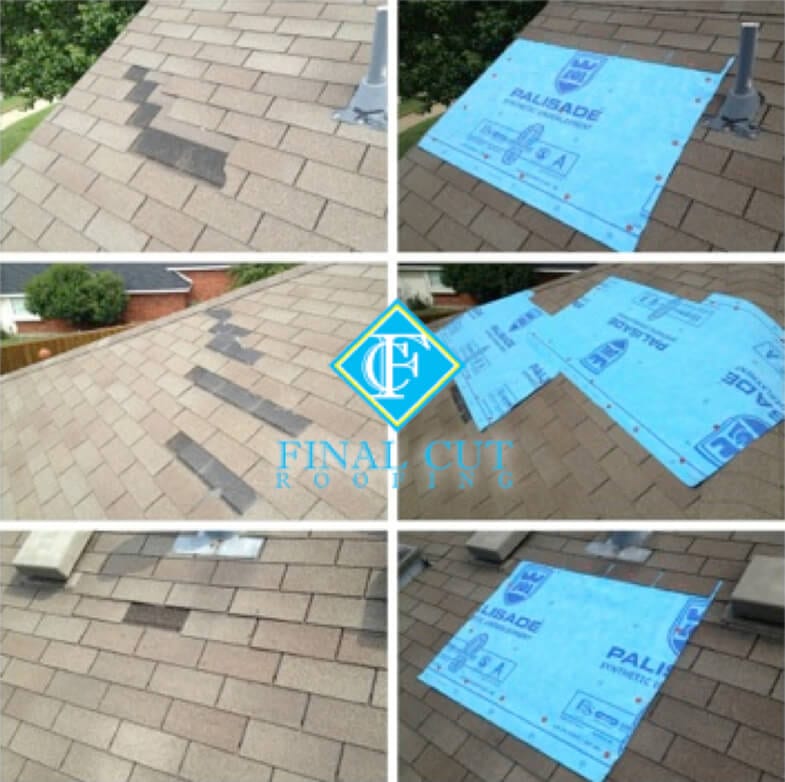 Our Coverage Areas
We offer roofing services throughout the four major counties surrounding Dallas/Fort Worth. Not sure if we offer roofing services in your area? Click on the link below to view our Custom Google Map and search for your city, or give us a call toll-free at 1-888-618-3271
Did You Know?
…that in the state of Texas, roofing contractors are not required to carry a license?
As you can imagine this can make it extremely difficult for customers to tell the difference between the good roofing companies and the not so good ones. To make matters worse, experts estimate that there may be over 3,000 roofing companies just in the Dallas/Fort Worth Metroplex alone.
Good News: How To Choose a Roofing Contractor
You don't have to go through 3,000 roofing companies to find a qualified roofer. Let us show you how to choose a roofing contractor with just a few simple steps. Learn how to avoid the pit falls in dealing with a roofing contractor by learning how to spot Fly-By-Night Roofers, the tactics they use, and who they target. We provide free in home, or on-line, presentations that are completely customized to your specific needs. Let us show you why we're different and why so many of our customers are referring their family and friends and trusting us with their homes.
All too often we encounter customers that are frustrated with roofing contractors, and the roofing company they work for, for their lack of honesty and transparency. We're confident that the more informed customers are, the better purchase decisions they will make. Feel free to brows through our Frequently Asked Questions and familiarize yourself with important questions you never thought you should ask.
Reviews & Testimonials: What Our Customers Have To Say
Don't take our word for it. See what our customers have to say about doing business with Final Cut Roofing and Construction, LLC. We encourage you to double check your intuition and perform a background check on us. You'll love what you'll find. And best of all, you'll have the peace of mind, and confidence, knowing you did your home work. Click on the pages below and see our reputation:
Top Industry Certificates: Why Choose Us
Working in the roofing and construction industry, we have the privilege of coming in direct contact with some of best companies in the roofing industry with priceless resources that you just can't go without. Be sure to visit Our Partners Page for a list of the top companies that we work with to provide you the quality service that you have come to expect.
Here's a short list of the categories that we specialize in:
Emergency Roof Repairs
Experienced in Natural Disasters such as Hail Storms & Wind Storms
Fully licensed and insured where applicable
Safety Inspections before & after all projects
Manufacturer warranties on all work
Using the best products on the market
HAAG Certified Residential Roofing Inspector
Licensed insurance adjuster on staff
Experts in residential construction and home owner's insurance
All roof technicians are fully trained by C.A.R.E.
Project supervisor on site